Thursday, April 17th, 2008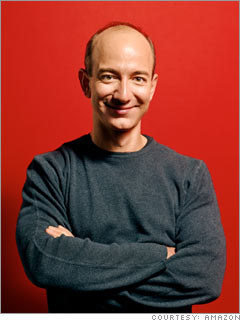 "I looked for a woman who could bail me out of a third-world jail," Jeff Bezos said on Tuesday night at a chat held at Stern. "Because I can't stand to be around people who aren't resourceful."
This delightful insight into the mind of the Amazon founder was one of the many that Jeff Bezos shared during his chat with a few hundred Stern students and alums on Tuesday night. Bezos covered an array of mostly Amazon.com-focused topics. Here are a few points that were on particular interest to me:
On organic growth: Bezos talked about the need to be patient in growing business units like electronics, which was initially introduced in 1999 and has only recently become one of the strongest performing units at Amazon.
On measurement: Bezos kept mum on individual sales figures by media, noting that Amazon's policy is to release figures only by business unit. They keep books, music, and movies all in one unit, which is the clearest the company's largest revenue producer, but I'm quite interested to see how those three groups have performed individually over the last 10 years, and particularly over the last 5. CD sales, as Bezos mentioned, are dying, and movies will eventually get there, too. I think, however, that it's going to take several more years of technological improvements both with video compression and with bandwidth availability in order for consumers to embrace the concept with the same zeal that they have embraced mp3.
On failure: Bezos cited the failure of A9, the search engine whose existence I remember only because it had sweet mapping software, as a great learning experience and as an example of the company's staying consistent with their promise to try bold new ideas. His best line: "Companies are rarely criticized for the things they fail to try; but they're often criticized for the things they try that fail."
On the future: Bezos gushed about Kindle, the e-book reader that has generated getting great reviews and nearly made me want to get one, despite my continued resistance to e-books. Consistent with his approach to everything else with Amazon, he described the years of research his team poured into coming up with a device that would embrace the potential of cloud computing for data, while not losing any of the appeal of a medium - printed books - that has stood the test of 500 years of use. Anytime a design has resisted change for 500 years, he suggested, it's probably a pretty good design.
For more coverage of the event, check out the excellent post at FutureThinkTank. They're professionals, I just talk about what I'm learning.