Thursday, February 15, 2007
Baby Likes It Cheap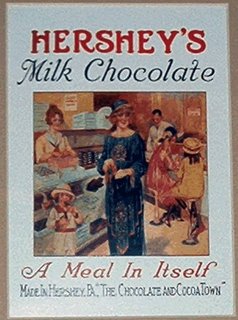 Last night I went to a
Valentine's Day Chocolate Appreciation
class at the Institute of Culinary Education on West 23rd St. It was taught by a culinary historian and chocolate expert who was a lot of fun. I learned that chocolate was refined first for consumption in beverages as a female-friendly beverage. The coffee and tea that dominated Europe in the 19th century, it was thought, were too harsh for the genteel female. I believe that drinkable chocolate's rise in popularity was also involved in the creation of the modern tea kettle, but I might have gotten mixed up by that point. There were a lot of slides.
I also learned that in the early 1900's as doctors began to understand a bit about nutrition, it was thought that all calories were created equal and that one calorie of chocolate was akin to one calorie of a fruit or vegetable. This led Hershey's to promote chocolate, with its high caloric content, as "a meal in itself." Men also wore bowler hats during that era, but I did not learn about bowler hats last night.
Then I ate about an entire box of chocolates. Mostly we were served dark chocolates, presented on attractive plates and paired with dessert wines that tasted like a cross between vinegar and ass. Dark chocolate is considered the more sophisticated cocoa product, so I guess it's no surprise that I didn't really enjoy it. Milk chocolate, the cheapo stuff that I grew up on (give me a bag of M&M's and I'm happy), is considered less "pure" and far less impressive among the chocophile set. My professor described most of these chocolates as "the type of thing that if it were a person you met at a party, you'd say that person is 'nice,' but someone I want to take home with me." Jacques Torres, home of perhaps the best chocolate I've ever had in my life, was also roundly dissed.
Promiscuity or intentions of my professor notwithstanding, my girlfriend and I both preferred the sweeter milk chocolate that "tastes like crappy kids' stuff," as one of the chocolate snobs in my class said. Regardless of our lack of sophistication in the chocolate world, it was a great time and I learned a lot about chocolate. And now that I've discovered the relative cheapness of my palette's sweet tooth, I'm not eating any chocolate for a month. Or at least a few hours.
Labels: activities, food, nyc
Permalink
•
0 comments
•